A collection of web applications and websites I have worked on in the past. More recent projects are closer to the top.
Nintendo Network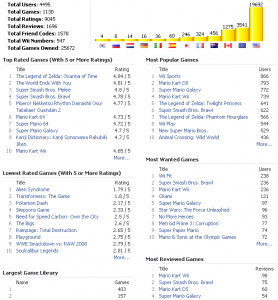 Nintendo Network was an idea born out of necessity. Nintendo was notoriously bad with implementing a social aspect for gaming. On the other hand, Microsoft had the wildly popular Xbox Live. Nintendo, rather than allowing gamers to create a single unique handle like in Xbox Live, created a system based off of Friend Codes. The biggest disadvantage of this system being that you had to give your opponent a long, difficult to remember code for each game you want to play.
At the time, Facebook applications were in their infancy and neither gaming company had yet built anything to make use of Facebook's huge member base. I decided to build an application that would unite Nintendo fans under a common guise. I chose the name Nintendo Network because it seemed most natural. Hilariously enough, Nintendo chose to follow suit four years later.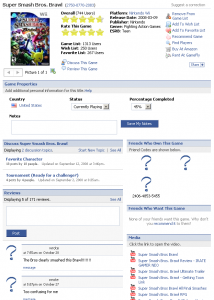 The original idea behind the Nintendo Network Facebook application was to allow you to find users who own Nintendo games DS, Wii, and WiiWare games and share Friend Codes. Eventually the application grew to support every Nintendo system. Each game had an associated page that allowed the user to rate and review it, find opponents, and watch relevant media. At its peak, the application had 10000 users.
You can read an old review over at Facebook Herald.

The AAC Self-Study Site offers opportunities for you to increase your knowledge in the area of augmentative and alternative communication (AAC). You can take online courses that earn you Continuing Education Units (CEUs). I added functionality to this website in the summer of 2005 during the Applied Mathematics Research Experience.
The Continuing Education Tracker offered by AAC Institute is intended to make it easier to record and track the Continuing Education credits earned by AAC Institute subscribers. Continuing Education activities for which AAC Institute is offering CEUs are stored in the database, which doubles as a searchable directory of the activities occurring in the near future. After attending an activity, participants can sign in and indicate that they attended an activity, check which sessions were attended, and complete the evaluation and learning assessment forms all from any computer. Certificates of participation, complete with CEUs earned, can be downloaded and printed.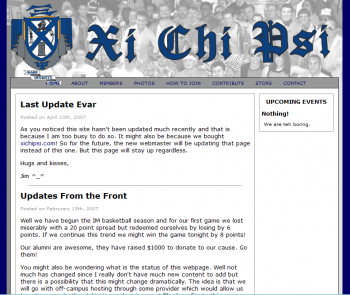 I redesigned the website for the fraternity Xi Chi Psi at the College of Wooster. Xi Chi Psi members are integral parts of the Scot Marching Band and the Symphonic Band, as well as A Round of Monkeys, The Wooster Chorus and Merry Kuween of Skots. Outside of the music department, Xi Chis are involved in Wooster Activities Crew, Campus Council and the First Responders. They host between two and four blood drives with the American Red Cross each year. Xi Chi Psi is founded upon the principles of trust, unity and generosity. They strive to make these pillars a part of their everyday lives.